Great Lakes Energy recently supplied Sun King™ Pro lamps to World Vision's Byumba project for Community Health Workers (CHWs).  CHWs play an important role in Rwanda by assuring the health of their community. They act as the first line of public health defense and their services are invaluable.
Sun King™ Pro lamps have helped the CHWs by providing them with a reliable source of sustainable, bright light and the ability to charge a mobile phone. Below are some stories from selected CHWs:
Olive M., World Vision Project Coordinator
"CHWs are based within the community to help fellow neighbours in the village. All health problems are reported directly to the CHW in the village – morning, noon and night. Sometimes the health worker must take a pregnant mother to the nearest health centre in the middle of the night! Before we got the lamps we would say, 'I can't help you. I can't inject medicine. Come back tomorrow.' Now we can do all of this at night. Now they have light. Before they were using candles and kerosene gas – not good. Some mothers in the community have a mobile phone and can send an SMS if they think they are going to give birth. The health worker's phone is always charged because it is free with the solar lamp phone charger. "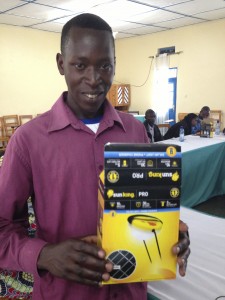 "After getting the lamp I have been able to keep my mobile phone charged and I can keep it on all the time. CHWs, pregnant women and people who want to practice family planning searched for me all the time and couldn't find me and were sometimes angry with me. Now I can tell them where I am and how to find me. From the clinic or the ministry I can call more than 48 people in a single day. Before I had the lamp I used to walk to the homes of 12 people in one day, now I call 48. It has changed my life and my work. I also use the lamps to write my monthly report."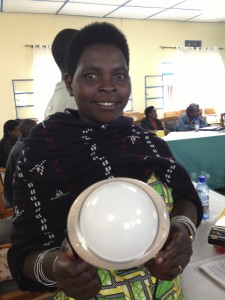 "Without the Sun King I was spending too much money on phone charging, candles and kerosene. The lamp has saved me a lot of money. My husband also was spending too much money on these things and now it has brought more appreciation for my work! He is very happy! I take care of children's health. Sometimes the candles would burn out, but now it is not a concern. One of my key responsibilities is family planning. When I had to inject medicine with a syringe, the candle was too dim to allow me to pull the correct amount from the medicine."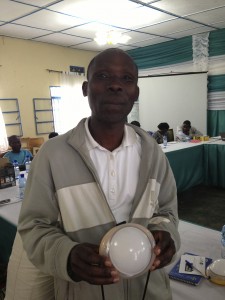 "In my work with children's health they used to come to me for the malaria test, but it was too dim by candlelight to inspect them. Now my work has greatly improved since I got my Sun King lamp. I am given books to read by the clinic and the ministry of health. Now I am able to study and research after my work- at night. Last week we [traditional human ambulance] carried someone to the hospital. I led the way with my lamp through the darkness. I am also a farmer. I can now get more grass for my cattle during the night. There is a lot more I can say about the lamp, all my neighbours want one!"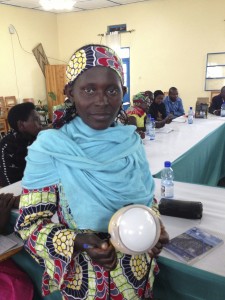 " We are grid-connected at home and we use the lamp when there is no power. We don't use kerosene gas like before. There are no more fumes from kerosene in the house and we are very happy about that. The lamp also helps out neighbours to charge their phones. I am in charge of child and maternal health. I am responsible for pregnant women and three times in two weeks I have escorted pregnant women to the clinic. I also write reports regularly. The lamps have with my work!"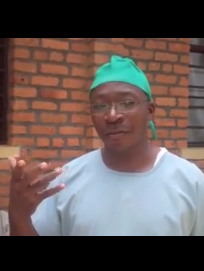 Dr. Kolombo, Shyira Hospital
" When Dr. Kolombo started working at Shyira Hospital it received power from a loud and expensive diesel generator for only 2 hours a night and only in the operating room, maternity ward, and laboratory. With the solar panels installed by Great Lake Energy, the hospital can use electricity all night and throughout the wards and offices. Most importantly, they can avoid using costly diesel fuel, and in a poor village like Shyira, this makes a big difference."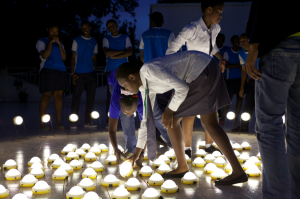 Earth Hour
The Office RW, celebrated Earth Hour with a spectacular participatory art event.  GLE sponsored the event by providing around 200 Sun KingTM Pro solar lamps to light the event and to make a magnificent picture of the globe on the roof of The Office RW.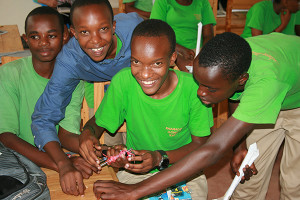 Education Outreach Programme
GLE developed an education programme with the aim of improving employment prospects of students and graduates, by increasing their practical understanding of engineering principles. The practical workshops were based on electrical/solar engineering and allowed students to develop their hands-on skills. Not only did this further students interest in engineering, but also promoted solar energy to the future generations.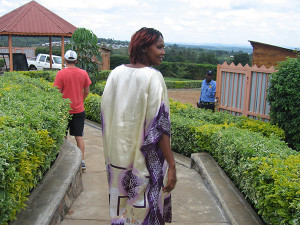 Nibakure Children's Village (NCV)
NCV is a home for orphans and children from broken families. They provide the children with a family, safe housing, healthcare, education, and counselling. GLE installed a 1050 W solar PV system and a solar water pump to provide the village with electricity and fresh water.
Football for Hope Lighting Projects:
Great Lakes Energy has partnered with Phaesun to install lighting systems for two football grounds located in East Africa: One in Burundi and in Rwanda.
Partners in Health (PIH)
PIH is a global NGO dedicated to providing the poor with access to quality healthcare. They helped launch 38 health centres across Rwanda. GLE installed solar PV-systems and a designed a computer script to optimise laptop power in 6 of the PIH supported health centres, allowing them to keep a medical records database.
World Vision (Community Health Workers)

As part of their health program World Vision is committed to supporting 100,000 Community Health Workers (CHWs) across the world. The CHWs provide basic health care and education in their communities and assist patients to their nearest health center or hospital. GLE works closely with World Vision to help provide Community Health Workers with clean and reliable energy solutions. We supply World Vision with Sun King™ Pro solar lamps, who in turn distribute the lamps to CHWs in Rwanda. The Sun King™ Pro solar lamps are an ideal solution to CHWs' lighting and phone charging challenges, with 30 hours of light per charge and phone charging capabilities. They allow CHWs to work during the nights, charge mobile phones and provide a bright light for carrying out medical procedures and administering medicines.